I love myself a fall Sunday.
Ever since childhood there is just something about Sundays this time of year.
Maybe it's the crispy air you breathe in as you settle yourself in to the car to head to church.
Maybe it's the comfort food you
stuff your face with
eat for lunch.
Growing up
football
was a big part of a Sunday afternoon in our home. I remember countless naps taken on the couch while we cheered on the Vikes (I stay awake solid for the first quarter...after that I'm typically a goner).
It's just a day where I allow myself to have my to-do list sit on the counter and not touch it.
A day where I just want to put my feet up. Read a book, read the paper, bake something, play with my kids, talk on the phone...whatever it may be.
It's just a day to get refreshed, recharged, look back on the week behind and look forward to the week ahead.
It's a good day.
Speaking of the week behind. Here is a small recap of ours: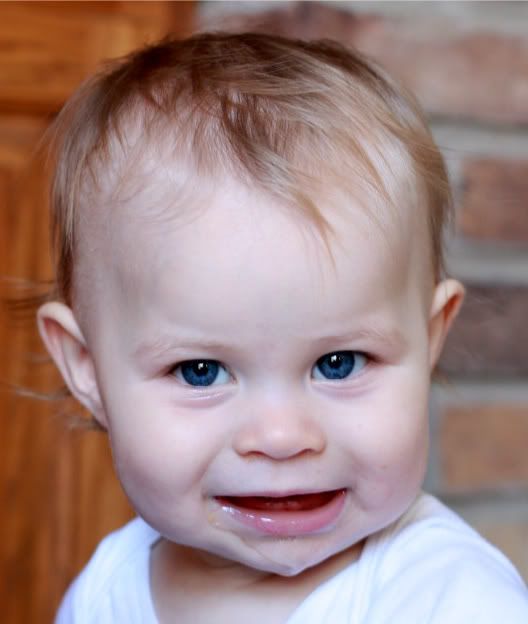 This girl is a full blown walker (and get a look at those bottom teeth)! I have yet to
truly
capture it on film because every time the camera comes out, she goes down!
Completely off topic - but my Dad has thought for a while now that Trixie from Hi and Lois reminds him of Adelyn. I can't help but see a small bit of the resemblance!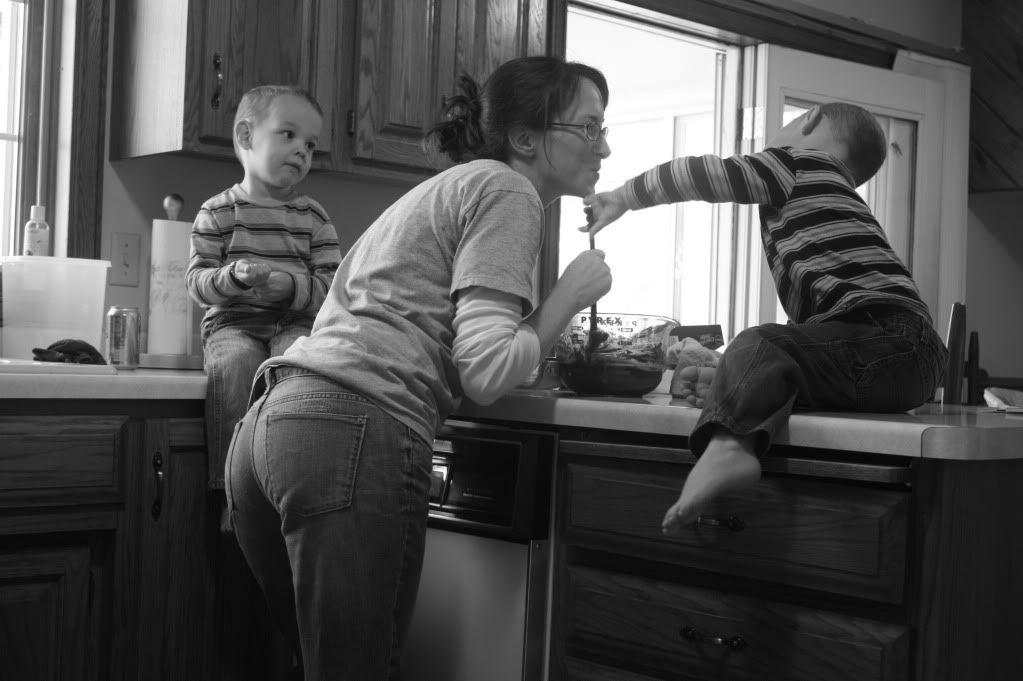 We made cookies and apple crisp together this week. The apples were picked off trees at my Great Grandma's place. The boys had fun pitching the rotten ones in to the corn field.
Potty training has taken off this week! The other night Chris worked with Grayson for over an hour on overcoming his fear of the toilet. He just talked with him, explained the way things worked (ha!), and in general just talked at Grayson's level (literally and figuratively). Grayson came downstairs at the end of their time together, sat on the potty, and hasn't looked back since! They have done great this entire week with going to the bathroom. Just one major accident to speak of. And trust me, it was pretty major. I told Mom I'm not sure if I am cut out for this job. Gag.
(And speaking of the above picture...after a potty episode Ethan's underwear went missing. I found them hanging like this on the gate. Better than on his head like his brother I guess...)
We see at least a few of these a day from our sweet angels. Here is Ethan in action during one of his. I believe this one was because he couldn't lick the beater with raw egg on it. Mean Mom.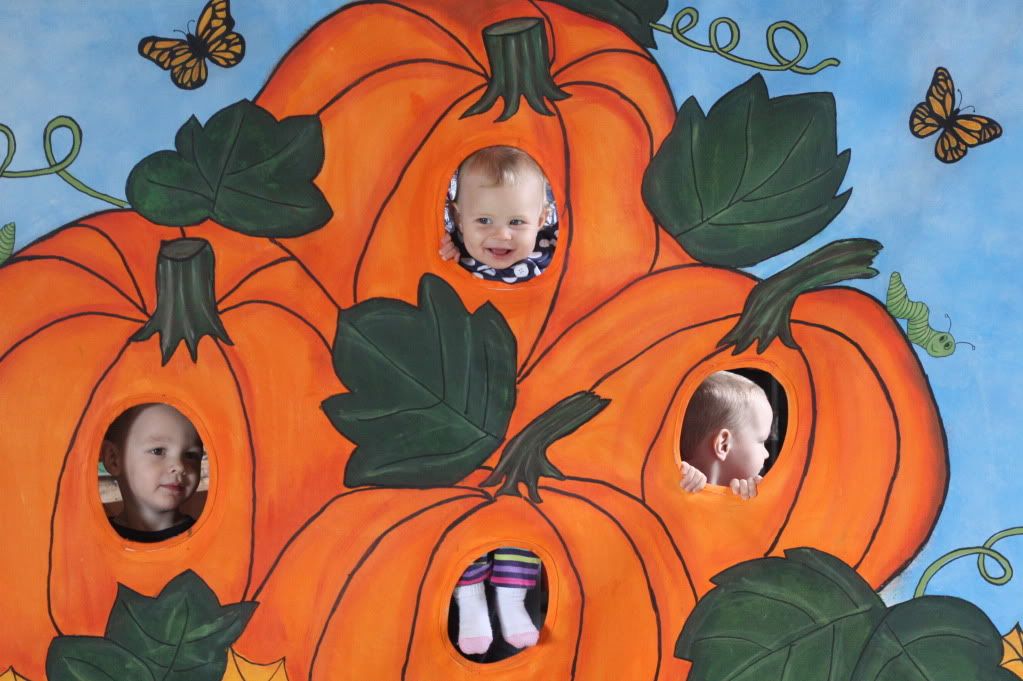 We visited a couple more pumpkin patches. I am addicted. I just love Adelyn's feet in the pic above!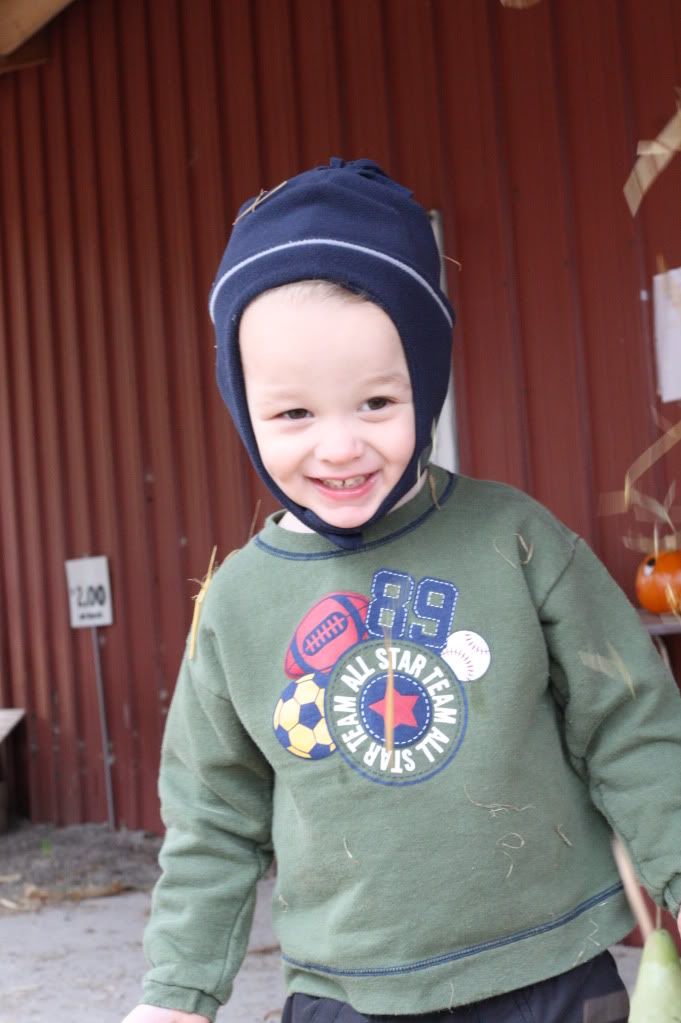 Yesterday morning my parents came to help us tackle our yard. We had many overgrown bushes and trees. They were an amazing help and knocked it all out in just a few hours.
My brother Mike and nephew Micah also came up and spent the morning with us.
There was just a moment yesterday morning in our kitchen where my three kids and Micah were making crazy amounts of noise and playing together, Mike was sitting in the kitchen talking to me, and my Dad came in from outside, stinking to high heaven of fuel from the chain saw. The sun was pouring in the window. We were all just talking. I was just overwhelmed with this sense of feeling content.content.content.
Last night we went and had some time with some family from my Dads side. It is always such an awesome treat to spend some time with my Grandpa and Grandma, who are both in their mid 90's now. My entire immediate family was there, along with my Dad's sister, her husband, their three children, and
their
children. We had seven kids total there last night - ages 4, 2,2,1,1,1, and 8 months. Such noisy, fun, chaos!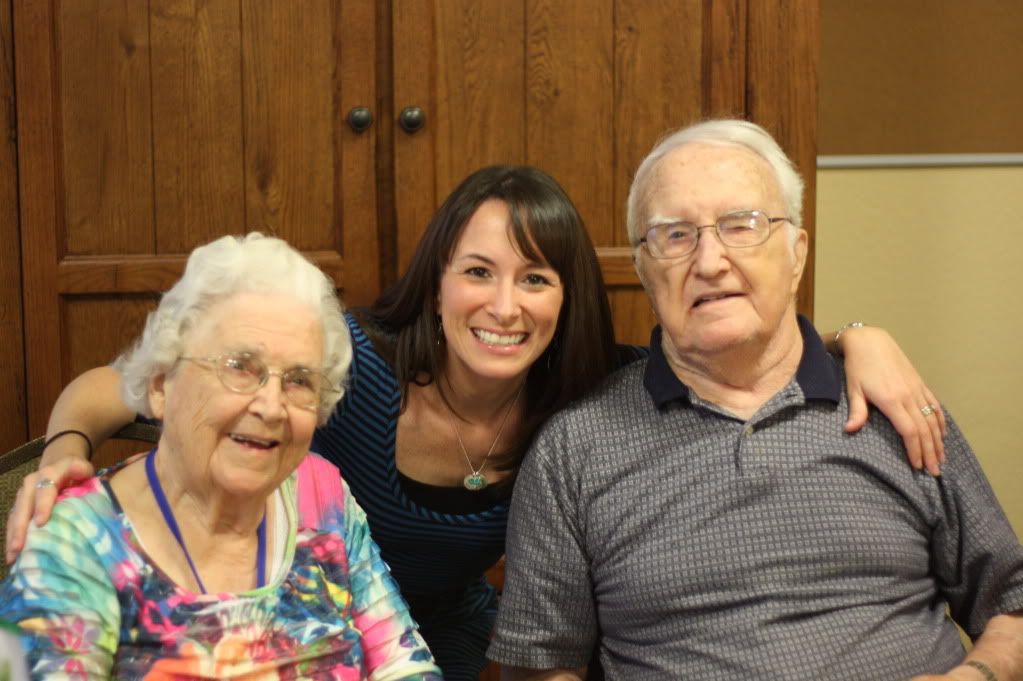 This photo was taken this morning before church. Chris is out of town for a couple of days, so the kiddos and I did it on our own this morning. Yes, I completely wore that same dress last night and again this morning - but when you already do
at least
a load or two of laundry a day a girls gotta do what a girls gotta do!
Happy Sunday everyone!!
(Looking to the week ahead...I am SO excited for Friday morning when me, myself, and I head out to Virginia to catch up with family and friends for a few days!!!)