A couple of you have commented to me that I haven't posted many pictures of our new home yet. Well...let's do it then shall we?
I will have to do a Part II when the kiddos are awake and not sprawled out across every bed we own in this home.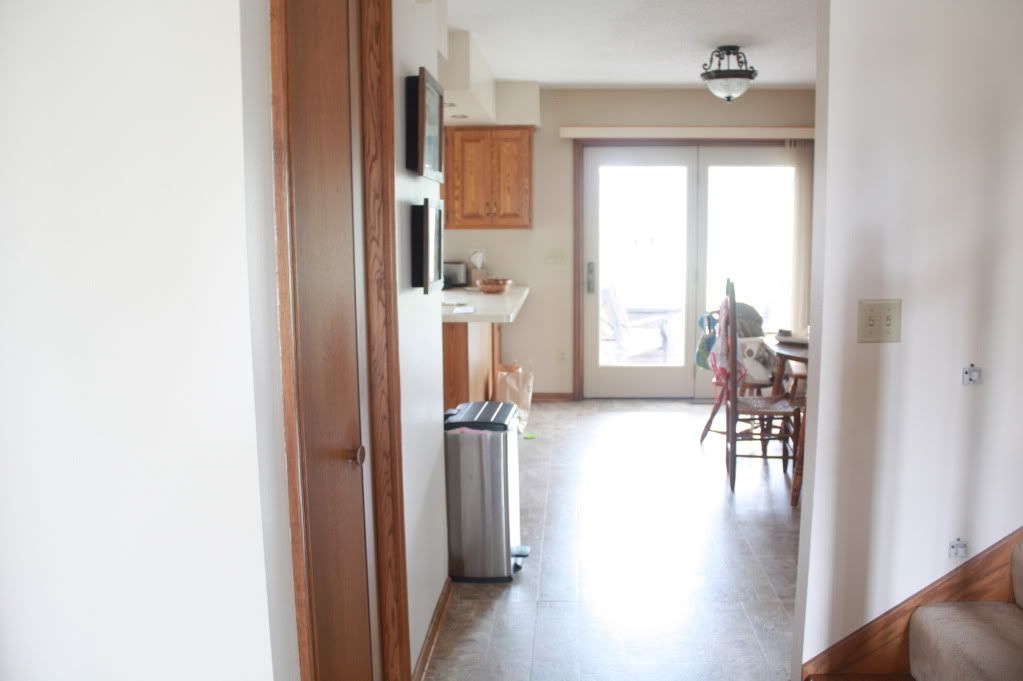 This is the view when you walk in the front door. You can go up the stairs to the bedrooms, straight in to the kitchen, or turn left to go in to the living room.
Here is looking down from the kitchen in to our family room. I'm at a bit of a loss with this room right now. I love the built ins, and I love the fireplace...but something about it just seems really dated to me. I just have no idea what I would do to improve it. I'm thinking (dreaming) about maybe one day putting wood flooring down, painting those built ins some other color, and I have no idea about that fireplace. Paint it? Recover it in stone? New mantel? See...told you I was at a loss. If any of you reading this have any ideas about renovating this space please let me know! For now though it suits our family perfectly and we spend a lot of time in this room!
A view of our "formal" living room. This is directly to the left when you come in the front door. We have the piano in there, along with our couch that we were hoping to get downstairs, but it won't fit. Not sure what we want to do with this room to make it fully functional and used, but I really like it. The previous owner used to teach piano lessons here.
This is the dining room, right between the living room and the kitchen. I love this room, the light it lets in, those windows...it's just a cozy space.
Here is one view of the kitchen. I was concerned about the cupboard space in this kitchen, certain that without having a closet pantry that there wouldn't be enough room, but there was plenty! In fact, we still have a few bare cupboards to fill! This home was built in the early 80's and all of the appliances (except for the fridge I think) are original. The previous owners did an amazing job keeping them all in pristine condition. I have a dream one day of painting all of those cabinets white, and then adding either a touch of green like this
or possibly orange. I would love to install wood floors, as well as change the counter tops and appliances, painting the fridge with chalk board paint...A girl can dream eh? :)
Another view of the kitchen. I need to get some curtains in that window, and I am debating sewing some myself! Gulp. That would be a completely new experience...but we'll see if I can get up the courage (and skill!)
Last on this level is the sun room. I love this room, but will be sad to say goodbye to it for the next six months! I was hoping the sun would keep it warm enough to use, but it sounds like that's not the case - so we'll have to say goodbye until spring.
I didn't take a picture of the basement, but that is where our playroom/tv room is. It's just a huge open room that is now filled with toys and a couple pieces of furniture.
We are loving this home! I am loving how well it suits our family right now. We have room to spread out and play. I do have some hopes and dreams for this house about things I would love to see done with it, but I also realize that with three young children this may not be the practical time in our lives for renovations and upgrades. I truly am just working on remaining content with the current status it is in (which is not bad!), doing little things I can like hanging pictures on the walls, figuring out how to decorate the fireplace mantel, and maybe, just maybe, picking out some fabric for that kitchen window!
I will try and get some pics of the upstairs soon and get those sent out!