Gratitude unlocks the fullness of life. It turns what we have into enough, and more. It turns denial into acceptance, chaos to order, confusion to clarity. It can turn a meal into a feast, a house into a home, a stranger into a friend. Gratitude makes sense of our past, brings peace for today, and creates a vision for tomorrow. -Melody Beattie
A moment in time where we pause in our hurried lives, look past our to-do lists and wishlists and instead soak up all of the incredible blessings that are right in front of our eyes.
And so tonight I want to take the time to write down a few of those things that I am so thankful for in my life.
These little boys who truly are the best of friends. Not many moments pass in a day where these two are not attached at the hip. I love to witness their relationship deepening right in front of my eyes. I remember the days of parallel play which have now been replaced with playing together. This morning I walked downstairs and they were full of conversation, using their imaginations, and creating stories of how the couch moved itself downstairs.
Little boys in footie pajamas on our couch. Curled up, bookie in hand, ready for books, brushing, and prayers.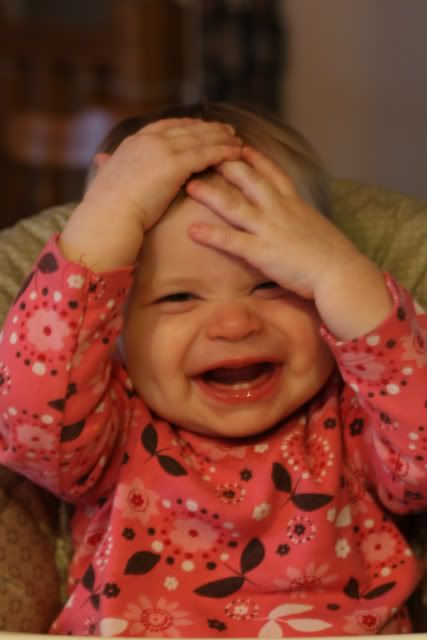 The way Adelyn calls me "MeeMee."
The words that are beginning to spring from her mouth, "Uh-oh. All done. Sock. Tummy. Duck. Hi. DaDa."
Her giggle and the way that dimple shows whenever she does it. Does.Me.In.
I love her at 15 months. This is a fun age!
This man I married. He is such a giver of himself. He pours himself in to his job daily, and then as soon as he is home pours himself fully in to his role as husband and father. Every evenings his sons beg him to "wrestle daddy" and he always obliges. Today he spent his entire day in the garage constructing a Christmas/birthday present for Ethan and Grayson, only to hurriedly finish that to whisk the boys out for a night on the town at the movies and dinner. I am so thankful for him, his handiness, his mind, and his heart.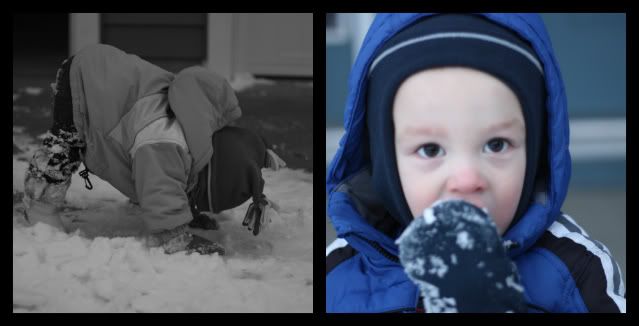 Witnessing firsts. Adelyn's first time playing in the snow and Ethan's first time eating it all by himself. :)
An excuse to spend time in my new kitchen, counter top covered in flour, thinking about all the ones I love digging in to these treats tomorrow. There is just something so cozy about making pies!
The nose picking
The pouting and puppy dog faces. (Here he was sad because his brother wouldn't give him another hug.)
Not to mention my parents, Chris's parents, our siblings, neices, nephews, friends, cousins, aunts, uncles, grandparents, neighbors...
I'm thankful for all of it.
Every single person that makes my life what it is.
The good stuff.
The bad stuff.
The annoying stuff.
The busy stuff.
The funny stuff.
The wild stuff.
Happy Thanksgiving!